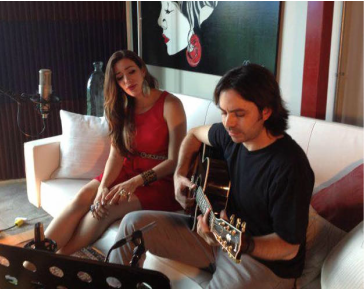 NMBR11
(pronounced Number-Eleven) is an international act created by artists
Bernard Bulhack
and
Yeshiva Lex
. The band was born on May 11th 2012 after Bernard and Yeshiva met while joining a blues project. Their interest in other genres drove them to branch off to create a duo and eventually full band as well.
They are double 2017 Global Music Awards Winners in the Duo/band category and for their song "Please Forgive Me."
Born and raised in South America (Chile and Venezuela), coming to the US over decade and a half ago, and being exposed to many cultures resulted in the rich sound they now deliver in their music. Bernard and Yeshiva (Bernard - FIU & FAU alumni & Yeshiva - Berklee alumni) join forces to create songs that reflect the wide variety of influences they've picked up along the road, which ranges from Americana, Blues, Roots, Folk, Jazz, Latin, and Rock. Their hearts, however, are ever so taken by Americana music, which is the style they drift towards when it comes to writing.

The band is currently working on the post-production of their sophomore album/DVD project. It was recorded at
The Hit Factory Criteria Miami
, produced by Grammy-winning producer
Dan Warner
and
NMBR11
, and recorded by Grammy-nominated engineer
Daniel Beard
, assisted by
Fernando Curiel
. The album includes contributions by also Grammy-winning artists
Lee Levin
and
Eric England
, and
Juan Etchegorry
in percussion. The project will be released in 2017.
Their debut album "Follow The Song", is an independent effort released by Nmbr11 Music, Inc in 2015 with a release party at the renowned Funky Biscuit.
Recorded in
Muscle Shoals, Alabama
at the renowned
Wishbone Studios
, and produced by
Billy Lawson
and
NMBR11
, the album includes contributions from several esteemed legendary musicians including
Will McFarlane
,
Bob Wray
,
Harvey L. Thompson
,
Randy Hartsfield
,
Marty Lewis
and
Johnny Walker.
Not to mention Grammy-nominated engineer Daniel Beard who was also part of the project, as well as Grant Walden who acted as Daniel's right hand during recording, and DJCharlie Jo was the perfect studio assistant who made sure everything was ready and seamless behind the scenes. Besides writing all the songs in the album, Yeshiva & Bernard poured their hearts and souls in the production of this project, contributing as recording and editing engineers, arrangers, and performers adding vocals, guitars, and percussion. It has been described as their most realized work yet, as well as honest, emotional, inspirational, and with a direct message. These 10 songs deliver strong lyrical and musical content.
The album is available on
iTunes
,
Amazon
,
Google Play
,
Spotify
, and
Pandora
, as well as www.nmbr11.com. "Follow The Song" is also available for sale in physical format at Amazon,
Grimey's Record Store
(Nashville, TN)
, and
nmbr11.com
.
NMBR11 is performing shows constantly in the South Florida area, and currently finishing their 2017 touring schedule.
---
---